Our Sweet and Talented Female Companions

A Place Where Miniature American Shepherds Rule!

Hope is a wonderful girl with a really nice personality.  She has provided us with a three nice litters and is now retired- she will remain in our home and be the gentle companion she has always been. With a gentle spirit and loving manner, she is a great mother and companion. She knows how to discipline our other dogs and is not hesitant to do so when necessary. She has helped our household by bringing comic relief and LOADS of kisses! She is very shy and reserved around strangers and the camera.

Hope's Accomplishments: 

International Champion

Enrolled in the CHIC program

Added to AKC/FSS program as Miniature American Shepherd in 2011

Has had several litters, some pups going on to become winners in conformation. Proven.

Dustee has titled with MASCA in Obedience: AKC titles include Rally, Trick Dog Novice and Intermediate, and  CGC. She completed her Rally Novice Title on December 4, 2016. We are still working with her in agility and herding but, due to no fault of hers, we have not been able to get out with her to complete her titles.  This girl has also won awards with MAMASC! She is a smart, energetic and stunning young lady who loves everyone and everything. Unfortunately, due to a costly, regrettable, and untimely decision of her breeder, Dustee will no longer be considered as a breeding prospect. This decision is beyond our control and is devastating to our program! I apologize for all who were anticipating this girl having a gorgeous litter and will refund all deposits that were made. Thank you for trying to understand-. because we sure don't.

This wonderful Miniature American Shepherd will always be in our performance program running agility, obedience, rally and what ever else she pleases :) We will continue to work with Dustee and love her as our companion. That being said, Dustee will always be our pride, joy, companion, babysitter, teacher= she is our first mini but will not be our last. She has taught us so much about this breed that we will be building a GREAT breeding program with other quality dams we have available to us. We will also continue to learn from her until the day she is no longer with us. Thank you Dustee!

Dustee's Accomplishments as of October 2020

Novice Obedience Title- MASCA- November 2011

Added to AKC/FSS program as Miniature American Shepherd in 2012- Full recognition on July 1, 2015

First leg AKC Beginner Novice A Obedience, November 2012: 187.5 pts

First leg HT November 16, 2014

CGC November 06, 2015

AKC Rally Novice A Title December 4, 2016- earning a fourth place and second place in two separate trials

AKC Trick Dog Novice and Intermediate Titles October 2020- 3 more tricks needed to complete her Advanced!

Sizzle is our big, fun, happy girl! She unexpectedly grew to 21" and has been spayed for reasons other than her height so no puppies from this line: a great disappointment. Sizzle will remain in our home for the rest of her life as most of our dogs have done.

Sizzle's Accomplishments

4-6 Month Puppy Group 3 at MASCUSA in September 2015

Prodigy's Keep 'N The Faith

Moxie is a big, beautiful girl with an energetic and loving personality. Let her get to know you and she will show you how well she can lick! She stands 18" and is working on titles in obedience and CGC. 

A true aussie at heart she is protective of her owner, calm and playful. She is not shy or aggressive- just a typical aussie who has been properly socialized. She is registered AKC Miniature American Shepherd. 

Moxie's Accomplishments: 

Added to AKC as a Miniature American Shepherd in 2015

Has had one litter with beautiful results but has been spayed because of thyroid problems.

Rya is our smallest girl- standing at 13.75 inches. She is also our most active and is a spitfire- nothing stands in her way when she wants something. This Battlefield's girl started her career out with winning her class while the breed was still in FSS status. She also placed third in her group of four females. Today she is satisfied with being a companion with a big heart. Rya would play ball all day if we let her! She has been spayed for reasons her breeder asked us to not share: she will not be used in our breeding program. We do love her and her playful attitude gives us tremendous joy.

Shimmer is her name and she shines like a starlight! This girl came was such a natural in the ring and we enjoyed having her in our program for a short time, she is unable to show due to some genetic issues. But, this girl has a new home and she is living a wonderful life as a pet with her new family!

RainDancers Mountain Cross Moxie Foxy

Abbey is serving as a Therapy dog for her new owner.  A Velcro dog, she is never far away from her peoples' side.

CH Southern Star Going With The Flow "River"

River is our newest girl and is fitting right in with the household. Standing at 16.5 she has a sweet disposition and knows how to keep everyone in their place. River earned her Championship while still with Southern Star and we hope to continue her career with Performance events and, possibly, another level of Conformation. We are very grateful to Leslie Stokes Peckham of Southern Star for giving us an opportunity to have a quality breeding girl in our program. River and Wolverine have had  two beautiful litters for us and has been retired. Working with her to obtain other titles on this girl!

   Health Testing results: River

Pra/Prcd: M/N- Tested by Paw Print 

HC/HSF4: Clear- Tested by Paw Print 

CD: Clear- Tested by Paw Print 

DM: Clear- Tested by Paw Print 

CEA/CH: Clear- Tested by Paw Print 

MDR1: M/N- Tested by Paw Print 

OFA: Prelim "GOOD" 2018 Pending

Cerf: Normal

Full Dentition/All teeth present/Scissor

   Health Testing results: 

Pra/Prcd: Clear by testing

HSF4: Clear by Parentage- will test

CD: Clear by Parentage -will test

DM: Clear by testing

CEA/CH: Clear by Parentage-will test

MDR1: M/N

OFA: Too young

CAER: Normal

Dentition/2 Missing Molars/One misaligned incisor otherwise Scissor

Mountain Cross Real Velveteen Rabbit CGC TDN "Bunny"

Health Testing results: Bunny

Pra/Prcd: - Clear Paw Prints

HC/HSF4:-  Clear Paw Prints 

CD: Clear-  Clear Paw Prints

DM: Clear-  Clear Paw Prints

CEA/CH: -  Clear Paw Prints

MDR1: -      M/N Paw Prints   

OFA: Pending

CAER: Pending

Full Dentition/All teeth present/Scissor

Bunny is our pick puppy from the 2019 Easter litter. She is a cross between River and Wolverine who have thrown some consistently nice pups both personality and structurally wise. More on Bunny as she matures and continues her training. She is current on track for conformation so see you in the ring soon!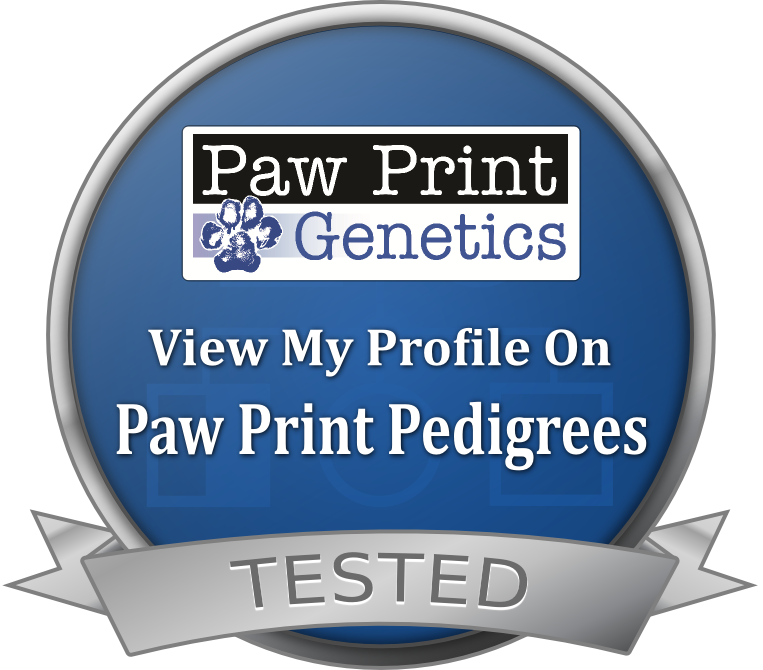 Bunny's Accomplishments as of October 2020

AKC Trick Dog Novice October 2020

AKC Canine Good Citizen October 2020